High Powered Electric Fish Scaler
Supercharge your fish cleaning routine with our Cordless Electric Fish Scaler Set. Designed to provide power, convenience, and efficiency, this dynamic tool is a game-changer for fishermen and fish enthusiasts alike. Say goodbye to the tedious and messy process of manually scaling fish. With our Cordless Electric Fish Scaler Set, you can effortlessly remove fish scales, saving you time and effort in the kitchen.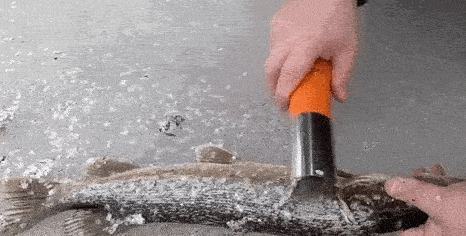 Features:
Powerful Dynamic Motor: Equipped with a high-performance motor, our fish scaler delivers impressive scaling power, ensuring quick and efficient removal of fish scales.
Cordless and Portable: The cordless design allows for easy maneuverability, making it perfect for use on fishing trips or in the comfort of your own kitchen. Take it wherever you go!
Rechargeable Batteries: The scaler set includes a 2600mAh rechargeable battery, providing long-lasting power for extended use. No need to worry about running out of power in the middle of scaling your catch.
Hassle-Free Cleaning: Removing fish scales has never been easier. With the Cordless Electric Fish Scaler Set, you can say goodbye to the mess and fuss associated with traditional scaling methods.
Durable and Easy to Use: Crafted from high-quality materials, our fish scaler is built to last. It features an ergonomic handle for a comfortable grip, allowing you to scale fish with precision and ease.
Benefits:
Save Time and Effort: The powerful motor and efficient scaling action help you complete the task in a fraction of the time compared to manual scaling methods.
Enjoy Hassle-Free Cooking: Removing fish scales with our scaler ensures a clean and hassle-free cooking experience. Say goodbye to stray scales on your cutting board or kitchen counter.
Elevate Your Culinary Skills: With the Cordless Electric Fish Scaler Set, you can prepare fish with professional-level precision, enhancing your culinary creations and impressing family and friends.
Versatile and Convenient: Whether you're a professional chef, an avid fisherman, or a cooking enthusiast, our fish scaler is an essential tool that will elevate your fish preparation to new heights.
************************
Hurry, before it is gone! Limited time remaining
Click the "Add to cart" button now! Limited Quantity – Will sell out fast!
Secure Checkout via AMEX | VISA | MASTERCARD | PAYPAL